Katharina Wohlgenannt was born on 11 August 1874 in
Dornbirn
/ Austria (around 10 km away from the eastern end of the Bodensee Lake).
Because of her psychiatric illness she was sent to the mental home "
Irrenanstalt
Valduna
" at
Rankweil
(in Vorarlberg / Austria) on 17 December 1932.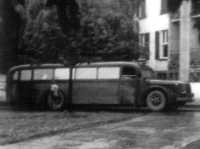 Gekrat Bus *
In course of the euthanasia
Aktion T4
Katharina Wohlgenannt was picked up at
Valduna
on 10 February 1941 because
Valduna
doctors classified her as being schizophrenic. A grey
GEKRAT
bus brought her, together with other patients, to
Hartheim Castle
. There she was gassed the same day.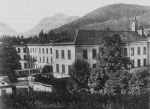 Valduna Mental Home *
Five T4-transports left
Valduna
because this mental home should be converted into a military hospital. Two transports (10 February and 17 March 1941) were sent directly to
Hartheim
, the other ones at first to intermediate mental homes. Katharina Wohlgenannt belonged to the first transport.
As usual, the ashes of the victims were mixed and filled into urns. These urns were sent to the relatives. Katharina Wohlgenannt's urn was found probably in
Konstanz
(German town at the Bodensee Lake) after the war.
Sources:
Dr. I. Böhler, Innsbruck University / Austria
Dr. W. Bundschuh,
Johann August Malin Gesellschaft
, Vorarlberg / Austria
Dr. G. Egger-Kiermayr, Dornbirn / Austria
G. and H. Wohlgenannt, Dornbirn / Austria
Photo:
Grafeneck Memorial
Hartheim Archive
This page will be improved as soon as more details come to light.
© ARC 2005