Hans Frank
Dr Hans Frank was born in 1900 in
Karlsruhe
, Germany. In June 1918 he was conscripted into the army. He has seen no action by the time the war ended in November 1918, but remained in service for another year.
On leaving army service, he joined the "
Freikorps Epp
". He belonged to the "
Thule Gesellschaft
", a Bavarian group of racists who acted against the Soviet rulers of
München (Munich)
. In addition, he became a member of the "
Deutsche Arbeiterpartei
" (German Workerís Party), a small organisation just beginning to become active in
München
politics. Despite his personal engagement in these fringe organisations, Frank resumed his studies in law and political economy. Attending the universities of
München
and
Kiel
, he received his Ph.D. 1924 in
Kiel
. His studies were temporarily interrupted when he had to flee the country to escape the fall-out of the
München
Putsch of 1923.
Frankís position in the Nazi Party was unique as he was one of the very few who had a long-term association with
Hitler
at the commencement of his rise to power.
Frank married in 1925, subsequently having five children. In 1926 he passed the state law examinations and joined his fatherís law practice in
München
. He later superseded his father due to inappropriate accounting problems within the firm.

At the Office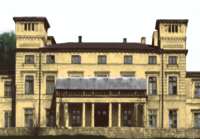 Frank's Residence near Krakow
Frank joined the Nazi Party in 1926 but left in the following year after a disagreement with
Hitler
et al., on their policy concerning South Tyrol. Strongly influenced by the charisma of
Hitler
, he returned to the Party in 1928 whereupon he formed the "National Socialist Jurist Association" with himself as leader. In 1929
Hitler
appointed him director of the headquarters legal department of the Nazi Party. He won an election to the
Reichstag
(German parliament) as a National Socialist representative in 1930 and shared his experience with
Friedrich Krüger
who entered the
Reichstag
in 1932. In 1931
Hitler
showered more accolades upon him by designating him as a
Reichsleiter
(high Party official). By 1933, when the National Socialists came to power, Frank was a leading protagonist of the New Order by being appointed Bavarian Minister of Justice, Reich Commissioner and reformer of the Nazi state legal system. In 1934, he aspired to
Reichsminister
without portfolio, the high point of his political career as from then on, others
Himmler
,
Göring, Goebbels
et al.), were ally vying for
Hitler
ís personal recognition and favours. Frank was never subservient when it came to the interpretation of the law and because of this, he had many fallings out over the draconian measures being introduced. In 1939, because of Frankís legal contribution to the
Führerstaat
,
Hitler
made him president of the German Academy of Law.
From this point on, Frankís political career veered off course when he came into direct confrontation with
Himmler
and his SS, including
Friedrich Wilhelm Krüger
.
His hitherto special relationship with
Hitler
protected him up to a point but finally even
Hitler
lost patience and dismissed one of his longest serving disciples from office.
After the war Frank was hanged after being found guilty at the
Nürnberg (Nuremberg)
trials.
© ARC 2005