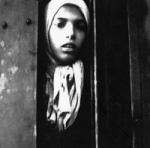 Settela Steinbach,
19 May 1944
It is a well known image: the girl looking out of a train just before it leaves the
Durchgangslager
Westerbork
for its destination -
Auschwitz
. The image lasts seven seconds in the movie about Camp
Westerbork
, made by order of camp
Kommandant
Albert Konrad Gemmeker
. For decades the picture was considered an iconic representation of the persecution of the Jews.
Aad Wagenaar
, journalist at the Dutch local newspaper
Haagsche Courant
, searched for the girl's identity and discovered she was not Jewish, but one of the 245 Gypsies who were deported from
Westerbork
to
Auschwitz
on 19 May 1944. These people became victims of a roundup on 16 May, following an order two days earlier from the SS Headquarters to the five regional police chiefs in the Netherlands to arrest all Gypsies and transport them to
Auschwitz
concentration camp.
Eventually
Wagenaar
found out with almost 100% certainty that this girl was
Anna Maria Steinbach
, born at a Gypsy camp in
Buchten
near the town of
Sittard
in the southern province of
Limburg
, on 23 December 1934.
She was the seventh child of
Heinrich
(Gypsy name:
Moeselman
) and
Emilia
(Gypsy name:
Toetela
)
Steinbach
.
Moeselman
and
Toetela
were Sinti. They had ten children. Only the father survived the war, but he died in 1946, it was said from grief about the death of his wife and children.
Anna Maria
, Gypsy name "Settela", arrived in
Auschwitz-Birkenau
on 22 May 1944. She was housed in the Gypsy part of the camp. This section was liquidated about five weeks later, on 31 July and 1 August. At that time Settela Steinbach, together with her mother and most of her brothers and sisters, were murdered.
Source:
Wagenaar, Aad.
Settela
, ed. De Arbeiderspers, Amsterdam 1995, ISBN 90 295 5612 9/CIP
Book:
www.fiveleaves.co.uk
© ARC 2005