Heeresmunitionslager Krasnystaw
Last Update 11 July 2005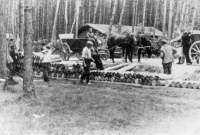 Forced Labourers
Probably in 1941 the German
Wehrmacht
established an ammunition depot in the Borek Forest near Krasnystaw. Ammunition should be stored for the planned attack on the Soviet Union.
In 1942 two barracks were built, surrounded by barbed wire. According to sources mainly Czech Jews were imprisoned there. All prisoners were forced to work for the
Wehrmacht
.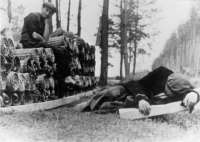 Break
Jewish forced labourers taking a break besides heaps of ammunition.
Photos: Bundesarchiv Koblenz
© ARC 2005