Georg Wippern
was born on 26 May 1909 in
Hildesheim
, and during his service in
Lublin
, was a crucial figure in the organised plunder of the Jewish victims of
Aktion Reinhard
. One of his post-war statements best sums up his role in
Lublin
during WW2:
"In my capacity as leader of the SS-garrison administration (
Standortverwaltung
)
Lublin
, I received an order in spring 1942 from the leader of the Main Economic Administration in
Berlin
,
Oswald Pohl
, to take charge of and sort out all jewellery, valuables and foreign currency and other money confiscated from Jews and to maintain their correct delivery.
Accumulated jewellery and valuables, as well as foreign currency, were delivered to the Central Economic Administration (
WVHA
) in
Berlin
and then to the
Reichsbank
in
Berlin
on receipt. Jewellery was melted down, if the design was not of special value, and then delivered to the
Reichsbank
as gold bars. The same happened with silver. Local currency, Polish Zloty, was transferred by my office at the
Emissionsbank
in
Lublin
to an account at the
Reichsbank
."
In the early days of
Aktion Reinhard
,
Christian Wirth
delivered the confiscated jewellery and valuables from the Jews directly to the
Reichsbank
in an unsatisfactory manner. After the order from
Pohl
,
Wirth
had to hand over the valuables to
Wippern
.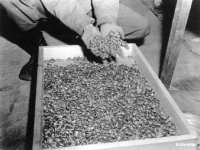 Dental Gold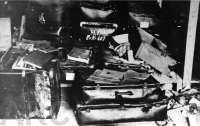 Chopin Street Depot
Wippern
's sorting and processing unit was known as
Abteilung Reinhard
and
Abteilung 1Va
. Two senior SS-men were assigned to
Wippern
,
Unterscharführer
Eicholz
and
Dorl
, who worked at different times with a small Jewish workforce of between 20-30 people. They were involved in the sorting and storing of the high value possessions removed from hundreds of thousands of Jewish families. In addition,
Wippern
had assigned to him trained banking personnel,
SS-Obersturmführer
Huber
,
SS-Oberscharführer
Teichelmann
and
Rzepa
, as well as an
SS-Unterscharführer
Pflanzer
.
Wippern
's special depot was located in a large five–storey building at
27 Chopin Straße
, near the centre of
Lublin
. Items were sorted, cleaned and stored on huge shelves by 20 Jews brought from the nearby Jewish Labour Camp on
Lipowa Straße
.
A
report
by
SS-Sturmbannführer
Albert Franke-Gricksch
mentions the depot at
Chopin Straße
:
"From
Trawniki
we travelled back to
Lublin
to inspect the special enterprise REINHARD. This branch has had the task of realising all mobile Jewish property in the
Generalgouvernement
. It is astonishing what immense fortunes the Jews have collected in their ghetto and even ragged and vermin infested dirty little Jews who look like beggars, carry with them, when you strip their clothes off them, foreign currency, pieces of gold, diamonds and other valuables. We wandered through the cellars of this "special enterprise" and we were reminded of the fairy tales of the "Arabian Nights".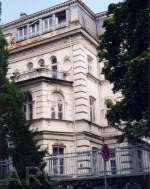 Wippern's Office at
the Standortverwaltung
Whole boxes full of genuine pearls, cases full of diamonds, a basket full of pieces of gold and many kilos of silver coins, beside jewellery of every kind. In order to carry out a better realisation of all these valuables, the gold and silver are melted into bars. We inspected the melting process in the garden of the house. There is a small foundry where gold and silver are melted and then formed into bars and delivered to the German National Bank on certain days. 'Special Enterprise REINHARD' has so far delivered 2,500 kilos of gold, 20,000 kilos of silver, 6.5 kilos of platinum, 60,000
Reichsmark
in currency, 800,000 dollars in money and 144,000 gold dollars. The huge quantity of diamonds and pearls can hardly be evaluated."
Wippern
's offices were located in adjoining buildings on the corner of the
Pilsudski Allee
and
Lipowa Straße
. The sorting depot at the
Airfield Camp
on
Chelmska Street
, which was used as the central clearing depot for the substantial quantities of clothing from the Jewish victims of the
Aktion Reinhard
death camps, was also under his administration.
Wippern
was ordered by
Odilo Globocnik
to equip the
Belzec
and
Sobibor
personnel with SS uniforms.
Wippern
stated:
"The
SS- und Polizeiführer Lublin
,
Globocnik
, had already requested from me the fitting-out of 40 men who had come from the
Reich
. At that time nothing had been said about a Jewish resettlement.
Globocnik
, ordered me to fit-out these men. They were an
SS–Sonderkommando
, sent from
Berlin
."
After the war Wippern was employed as a lower-grade civil servant. Together with his family he often moved, and lived in different towns:
Saarbrücken, Hannover, Aachen, Bad Dürrheim, Homburg (Jägersburg) and Bonn
. These moves may have taken place for good reasons. German authorities showed a new interest in Nazi crimes during and after the
Eichmann
trial.
His children didn't know about his activities in
Lublin
. His granddaughter describes him as an intelligent and well educated man with good manners who had always been an affectionate grandfather. He often woke up in the night, troubled by nightmares. At such times he told his wife that he dreamed of battles (he had an old gunshot wound in his shoulder). Perhaps this could be an indication that his job in
Lublin
didn't necessarily correspond to his character. In 1942 he visited
Majdanek
several times. Afterwards he returned home, became nervous and overwrought and had a permanently pale demeanour. German investigative officials questioned him after the war. No proceedings were commenced and he was never tried. This could be put down to the fact that he hadn't committed any crime in a narrower sense, but had been employed solely as chief of administration of department 1Va. So he might be a typical example of a "writing desk" offender.
In spring 1993 Wippern died in
Bonn
.
© ARC 2005